It's a simple yet sublime pleasure, and just thinking about it can make you feel a little calmer, a little more content. Imagine: You bring out one of the good rocks glasses (or your favorite mug or a special occasion tea cup) and pour a couple fingers of amber liquid (or something dark and strong or just some whole milk). You drop the needle on the jazz platter (or pull up a blues album on your mp3 player or dig out that mixtape from college). Ensconcing yourself in the coziest seat in the house, you crack the spine on a classic (or find your place in that sci-fi paperback or pull up a biography on your e-book reader). And then, you go away for a while. Ah, bliss.
In this series, some of NTSIB's friends share beloved albums, books and drinks to recommend or inspire.
---
Good morning, NTSIB. We're doing something a little different with A Good Read today. The two people joining us today – Twilight Fauna, aka Paul Ravenswood, and Jennifer Christensen (solo, Disemballerina) – are not in the same band. Instead they are equal halves of a two-song split.
Both are established black metal artists: Twilight Fauna is a one-person atmospheric metal band from Appalachia, and Jennifer Christensen is a composer and multi-instrumentalist from the Pacific Northwest whose sound is more traditionally classical. For the purposes of this split, they decided to chuck genre limitations and match their works based on emotional content.
The result: Sickness unto Death, by Christensen, and Crossing the Threshold by Twilight Fauna.
Sickness unto Death is a spare, sweet, delicate and melancholy, but also menacing. If the Tell Tale Heart had come with a soundtrack, it would probably have sounded something like this song. Crossing the Threshold, in stark contrast, is the slow death throes of the big machine and makes ample use of grinding fuzz to set the mood.
And with that, I turn the floor over to Jennifer and Paul, who join us today to share a favorite book, record and drink:
---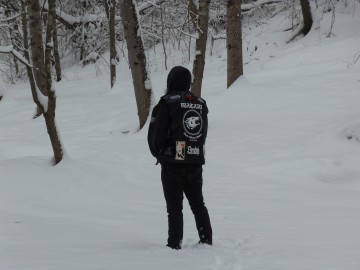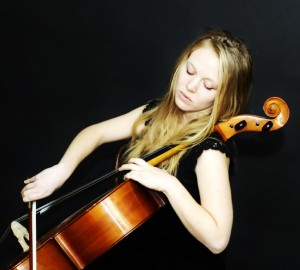 A Good Read
Paul: An Uncomfortable Life by Nicholas Trandahl. An Uncomfortable Life hits home for me on a lot of levels. The exploration of the individual within nature and with fellow humans has been a constant theme in my own life. The searching for one's place, a sense of belonging, and the struggle to live an authentic life even when that places you in conflict with others makes this a powerful read for me. I've had the opportunity to speak at length with Nicholas Trandahl about this book and have found this struggle to be a common theme in both of our lives.
While I'm a fan of Nicholas' writing in general, I identify with this book especially. You know how at times you'll find a perfect piece of music or a book at what feels like the moment you need it most? An Uncomfortable Life came into my life shortly after I experienced some major losses. This book spoke to me not only about losing people, but of finding my own place in the world. While that is an ongoing struggle to which I still haven't found an answer, An Uncomfortable Life helped me to start asking the right questions. For that I will be forever grateful.
Jennifer: I'm currently reading the biography of the modernist abstract artist Lee Krasner by Gail Levin (2011). I just picked this book up from the library today and I'm already engrossed. Reading about this period of time and the artists, musicians and authors that thrived during this era in our collective creative history is something I often find invigorating and significant to the writing or composing that I do. Especially when I'm stuck wondering where a composition is headed, I like to reference artists from the past I've found to be energizing—like Krasner!
A Good Listen
Paul: Earthborn by Evergreen Refuge. Earthborn consists of a single 45 minute, all acoustic track. It's basically the soundtrack to a journey through the forest. Every time I listen it transports me to somewhere else. As you listen, even in the most congested city, you'll find your mind wandering to wild places. Your eyes will naturally begin to search out the greens of nature or the blue of open skies. In my own life I am drawn to wild places, I spend a lot of time hiking in the isolation of the mountains. On this release, Evergreen Refuge manages to capture the spirit of those places and transforms it into 45 minutes of beautiful sound. Each listen takes me back to places I've been or places I've yet to travel.
Something else that strikes me about this album is that it's entirely instrumental. There is great beauty is being able to carve out an experience, to say so much, without needing words. Evergreen Refuge is able to paint pictures, entire forestscapes without bringing vocals into the mix. The only words you'll find in Earthborn are your own. Those of your own experiences, your own hopes, dreams, and the journeys you've yet to take. Digital download/CD here. Highly recommend getting the cassette here.
Jennifer: Them Are Us Too – Remain (2015). While on tour with Disemballerina, I recently stumbled upon this album in California and I have been obsessed with it ever since. The dreamy tracks on Remain are perfect for basically any situation I can imagine; driving, bathing or walking anywhere. I find their creativity, innovation and the sheer beauty of this work to be highly inspiring and influential, as does everyone I've recommended this album to ever since.
Them Are Us Too - Eudaemonia (Official Video)
A Good Drink
Paul: I'm a big craft beer guy. When I travel I'm always on the look out for small microbreweries. Especially in the last 10 years or so, it seems every small town has a least one locally owned small brewery usually where you'll find local people having a good time. So in general, as far as a good drink I would consider that anywhere that you can share a good beer with friends and soak up the local culture. Where I live, that place is Johnson City Brewing Company. I'm a dark beer drinker, my favorite is their Raspberry Mocha Stout which is a rich, slightly sweet beer that is perfect for cold winter days.
Jennifer: Fresh pressed apple cider. I grew up in Red Bank, New Jersey and fresh pressed fresh apple cider is both a local treasure (at nearby Delicious Orchards) but also my favorite thing in the world to drink. This is especially true in the fall but really all the time. I have wonderful memories of pressing the apples myself and tasting the juice with my mother and the taste (along with often the accompanying apple cider cinnamon donut!) brings me back to a very happy and innocent time in my life which remains intact inside it's crisp flavor. Definitely a somewhat unacceptable substitute but I even brought dehydrated apple cider with me this summer on the month long stretch of the Pacific Crest Trail I did through the Sierra.