It's a simple yet sublime pleasure, and just thinking about it can make you feel a little calmer, a little more content. Imagine: You bring out one of the good rocks glasses (or your favorite mug or a special occasion tea cup) and pour a couple fingers of amber liquid (or something dark and strong or just some whole milk). You drop the needle on the jazz platter (or pull up a blues album on your mp3 player or dig out that mixtape from college). Ensconcing yourself in the coziest seat in the house, you crack the spine on a classic (or find your place in that sci-fi paperback or pull up a biography on your e-book reader). And then, you go away for a while. Ah, bliss.
In this series, some of NTSIB's friends share beloved albums, books and drinks to recommend or inspire.
---
Poeticat, my favorite purveyors of slam poetry set to music, are back with a new single entitled Third Arm, for which they have made the video/short film below, wherein a nerd becomes a super hero with, you guessed it, a third arm. His costume is very orange; the villains have amazing wrestling masks; the whole thing is awesome.
Poeticat – 3rd Arm. Official Music Video
They will also be releasing an EP in April. Meanwhile, Ivo Ramalho (bass) is here to tell us about the books, music and drink he loves best.
---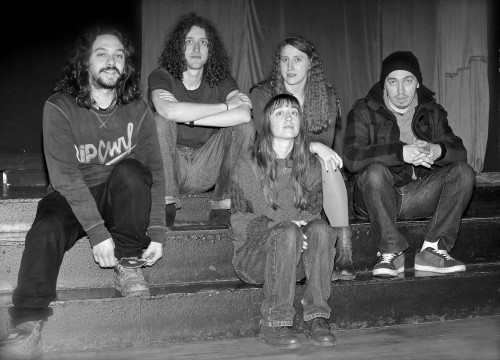 Ivo Ramalho is on the left; also pictured: Baj Kenrick (Guitar), Catherine Martindale (Vocals), Vic Meadowcroft (Percussion) and Ziggi Jadovski (Vocals).
A Good Read
You won't get a reading lecture from me as I have a bit of a problem with reading. The thing is that I have the memory of a goldfish and have read so many amazing books which I automatically forget about. However, Life of Pi [by Yann Martel], Shantaram [by Gregory David Roberts] and The White Tiger [by Aravind Adiga] are good exceptions to this rule, probably because they are set in India.
I am also a sucker for crime novels, I love a good page turner, and hands down The Girl With The Dragon Tattoo trilogy [by Stieg Larsson] was probably the best I have ever read; just literally couldn't put those books down.
And on a sentimental side of things, the Harry Potter [series by J.K. Rowling] as to be up there. These books were a big part of my teenage years and start of adulthood, and I remember the joy I got from reading them, it was amazing! No shame here whatsoever.
A Good Listen
This is that hard question to ask a musician, so I'll try and keep it short. Absolutely anything by the Red Hot Chili Peppers have ever released. Listening to the evolution of the band's sound throughout the years is amazing. The trio Flea-Chadis-Frusciante, is for me, absolutely flawless. No words needed, just listen to Stadium Arcadium, what an album!
Red Hot Chili Peppers – Snow (Hey Oh) (Official Music Video)
System of a Down, for the attitude and the amazing fusion of eastern sounds with heavy metal music. The mix of great vocal harmonies with heavy riffs and powerful drums.
System Of A Down – Hypnotize
Skunk Anansie, for me, one of the best bands to ever come out of England. Great lyrics, great music and the fantastically raw vocals by the amazing Skin.
I Hope You Get To Meet Your Hero – Skunk Anansie – Official Music Video
Bob Marley, for bringing reggae into the main stream, and for making me want to listen to more and more reggae.
Bob Marley – Three Little Birds [Official Music Video]
Ben Harper during his period with "The Innocent Criminals". 5 great albums.
Ben Harper and The Innocent Criminals – Jah Work: A Lewis Marnell Tribute
Anything that has come out of Motown Records, from Diana Ross to MJ.
Diana Ross – Take Me Higher
A Good Drink
The day doesn't start until that cup of black coffee has been assimilated by my body. Then, after that, anything that the day brings. From water, to beer or scotch, to home-made Serbian +50% fruit liquor (Rakija).