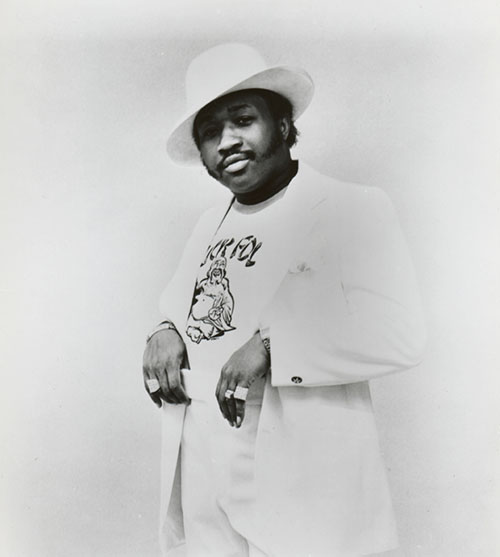 When you look at the cover of Swamp Dogg's album Rat On! now – on a black background, Swamp Dogg, in beret and fringed vest, sitting astride a white rat, Dogg's arms held up in triumph – it just looks silly (and has indeed been called one of the worst album covers of all time). But at the time of its release in 1971, it managed to offend some people (evidence that people searching for things to be offended by is not a new development). While the photo was never intended as anything more than a visual component of the title's play on words, Swamp Dogg hasn't been one to back away from controversy, so he decided to stoke the fires of the offended by claiming the cover represented "the black man on top of the white man"1.
Clearly, what the cover does denote is an album from someone fond of clowning around. What you may miss from just looking at the cover, though, is that, beyond the silly cover and between some jokey songs are serious responses to race, war, sex, and more, backed by solid soul.
"Creeping Away" – Swamp Dogg

Download
You see, Swamp Dogg is the alter ego of a man, Jerry Williams, Jr., with chops. Williams cut his first record when he was around 12 years old, when he was known as Little Jerry, and he's been writing and producing music for himself and others since childhood. He's worked with artists like Solomon Burke, Patti LaBelle and the Bluebelles, Gene Pitney, and, along with writing partner Gary U.S. Bonds, was nominated for a Grammy for the song "She's All I Got", recorded by Johnny Paycheck.
Williams has not stopped working, either on his own or for others, and his first two Swamp Dogg albums, 1970's Total Destruction to Your Mind and Rat On!, are being remastered and reissued on vinyl and CD by Alive Records on March 5.
"If I Die Tomorrow (I've Lived Tonite)" – Swamp Dogg

Download
To hear more about this entertaining man and his interesting career, check out this appearance from public radio program Studio 360 from July 2011, where Williams and writer Ben Greenman talk about their collaboration stemming from Greenman's novel Please Step Back.
And for a little more background, check out his interview with Jesse Thorn on The Sound of Young America from January 2008.
---

1interview, North Sea Jazz special, 2010