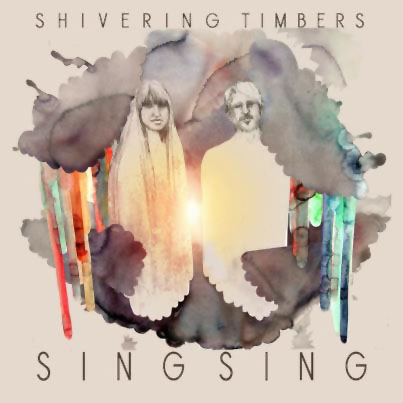 If you loved the Shivering Timbers Dan Auerbach-produced debut We All Started in the Same Place, be ready for a little shift. Sing Sing, the Kickstarter-backed album for which they'll be playing an album-release show at Music in Akron this Friday, diverges from the quirky nursery rhyme tunes of their debut, instead reflecting more accurately the band's live sound, with Sarah Benn's strong vocals soaring open wide while Jayson Benn's gorgeous guitar weaves and fuzzes out back on earth.
As Sarah noted in her interview with Tim Quine over at Rubber City Review, We All Started… was largely an on-the-spot creation. But through all the subsequent gigging, Shivering Timbers have grown confidently and reflect that growth, their stronger self, gloriously on the Brian Olive-produced Sing Sing.
Shivering Timbers – Generations from TurnStyle Films on Vimeo.
While the album begins on lighter, brighter notes with title track "Sing Sing" and Neil Diamond cover "Holly Holy", the stream of the album roils with the kind of darkness born from standing resolutely against life's foes, reflected here in the Chuck Auerback-penned "Annalee", as Sarah asks, "Who told the Lord I didn't need her? Who told the Lord I didn't love her? Who ever said He could take her? When I find Him, I'll put Him in His grave."
06 Annalee by Shivering Timbers
The clouds begin to clear by the end, and the playfulness of the Shivering Timbers' first album is revisited in the charming blues tune "The Mopping Floor".
12 The Mopping Floor by Shivering Timbers
We All Started in the Same Place was Shivering Timbers' calling card to get your attention. With Sing Sing, they're ready to show you what they can really do.
Sing Sing will be released to the wide world on September 4, but if you can make it to Akron this Friday, you shouldn't hesitate.
Shivering Timbers album release show
at Musica
Friday, August 31, 8 PM
with
Good Morning Valentine
White Pines
Light of the Loon
$8.00 advance / $10.00 door
Advance tickets available via TicketWeb.
Shivering Timbers Official Website
Shivering Timbers @ Daytrotter