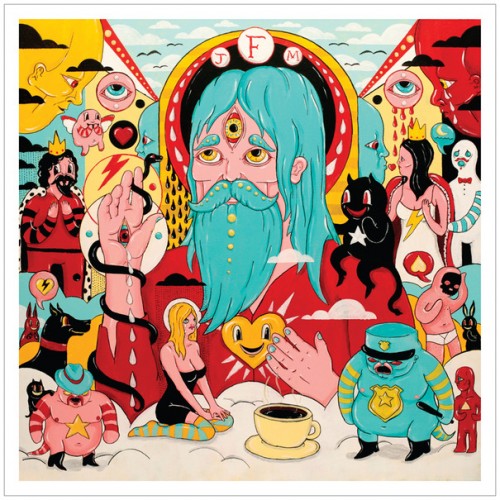 Fear Fun, by Father John Misty (aka J. Tillman) is: the soundtrack for an adventure. Not the twee hipster kind either; to paraphrase NTSIB-friend Cam Rogers, this is music for the bad ideas that will end in bruises.
Or possibly with In-and-Out fries, consumed slowly while perched on the hood of a van, watching the sun rise at Venice Beach.
Or maybe with bruises and fries.
Fear Fun is also: a record I want to share with everyone, because, seriously, y'all need to listen to this, and a novel that I find myself circling back to, just to see how the characters are doing.
If it actually was a book, it would be one that I would I know if I lent it out I'd never get it back. It would also be one that I would deliberately lend to people who needed it. And then once they had finished it we could go down to the beach and eat our fries, drink fizzy drinks, wash our cuts and scrapes out in the sea, and watch the skateboarders zoom around the skate-park together.

Now I'm Learning to Love the War by subpop
It's possible to get lost in this song – to get distracted by the interaction between his voice and the beat and come up for air halfway through a verse thinking Rome is burning, you go on and keep fiddling, I'm going to dance – and then also realize you are Alice standing athwart the Ironic Looking-glass and he probably means every word sincerely.
This happens every time I listen to this song.

Only Son of the Ladiesman by subpop

For good or for ill this one is my favorite.
This is the one I have listened to the most often, because it came out first. Also because it has steady thump-sway beat which I particularly enjoy.

Everyman Needs a Companion by subpop

Joseph Campbell and the Rolling Stones / couldn't give me a myth / so I had to write my own: I don't think I want to tattoo this lyric on myself.
I think I'd rather write it on the back of a postcard and mail it off, and hope whomever I was mailing it to would read it and know it meant come meet me where-ever I am, I want to mis-spend an afternoon (or a lifetime) with you.
J. Tillman will be taking his show on the road (scroll down for dates) this spring/summer. I won't be able to see him when he stops through New York, so I'm hoping he'll be back again in the fall. But the rest of you, if he's visiting your town: go and see him.