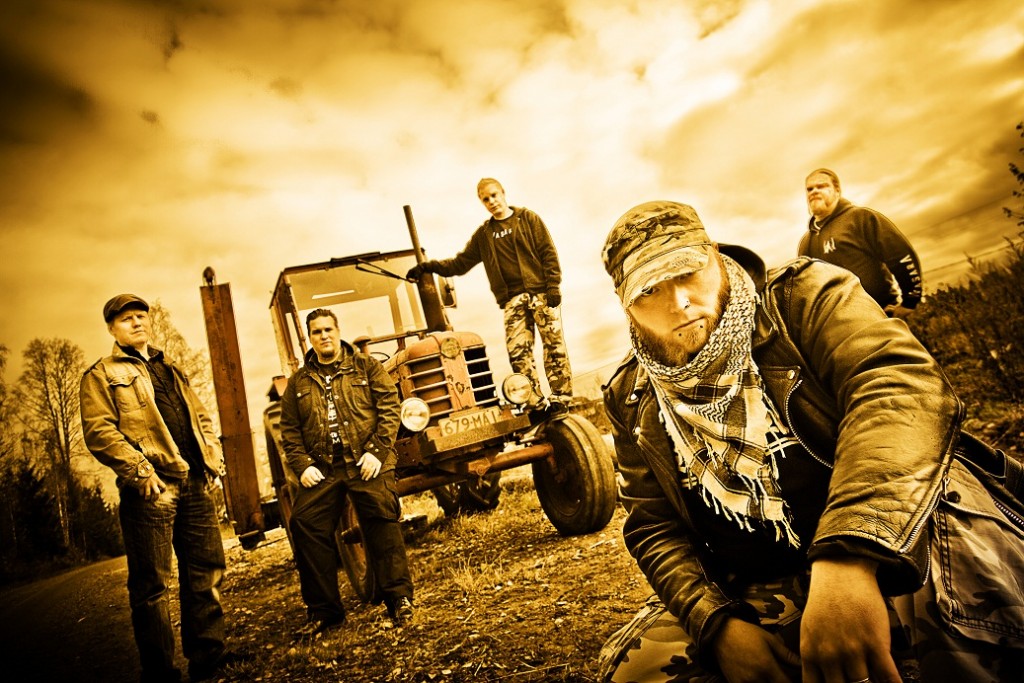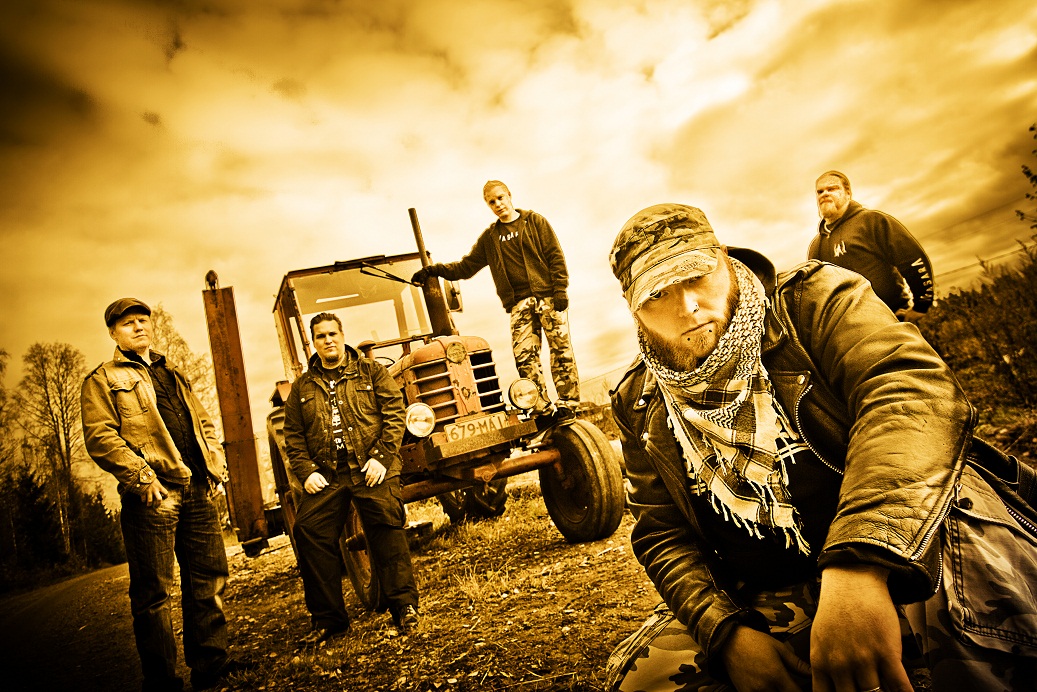 Wasara is a death metal/folk hybrid from Finland, and they just recently released a new record called Hehku ("The Glow"). It is a dark, brooding gem of a record, and as soon as I heard it I wanted to know more about both the songs and the people singing them. Here, lead singer/lyricst Antti Åström (lower right corner, above) and I chat about the record and the band:
Where in Finland are you all from?
All of us are from southern part of Finland. I'm from this small town called Lohja, about 50km from Helsinki. At this time of year there's nothing "southern" in here… 50cm of snow and -20 Celsius – just cold and dark.
How did you get together as a band?
We started this in '96 with our bass player Ipi and ex-drummer Mikko, we have known each other since childhood. First our music was improvised punk, played as loud as possible in our basement, but it soon developed to more metal-like Finnish rock/punk with influences from every possible genre.
There was a time we had a few songs with synths and techno-beat and on the other hand we had songs that were pure black-metal. We were about 16 when we started this and we all had wide musical backgrounds despite our young age – hence the chaos.
There have been few changes in the Wasara camp along these years, but this line-up (Antti, Ipi, Tuomo, Saku, Harri) has shown its power, like our new Hehku album proves.
First demo was recorded in the year 2000 and it was the first "official" thing under the name of Wasara. It's been long road to finally be at this point and have our third album in our hands. It was truly a journey with many ups and downs.
The first demo was recorded in 2000?
Yes. It turned out to be too "rock" 'cos the guy who recorded it was a hip hop guy and didn't quite get what we tried to achieve soundwise :D Second demo was more what we wanted and that got us the record deal with Firebox Records in 2003. Wasara's first album Kaiken kauniin loppu was released in the same year.
Your music is a really interesting combination of death metal and folk music. What inspired you to meld those genres?
We haven't really given it any thoughts . . . we just write the kind of music that we want to listen. And like I said before, every one of us have long history of listening and playing different kinds of music. I, for example, have been a huge death metal fan since I got my hands on Grave's Into the Grave album.
I also love traditional Finnish music and instruments. One of my favourite Finnish folk bands is Värttinä. They capture perfectly the Finnish atmosphere with different kinds of instruments and with beautiful female vocals. Other bands which have been huge inspiration for me are Amorphis, CMX, Mana Mana, Paradise lost, 3rd and the Mortal, Käsi, etc etc.
Are your songs variations on existing Finnish folk songs, or are they new songs written in a traditional folk-y style?
They are new songs as far as I know. Some of the songs were born in a completely different style than folk or death, but after every one of us had put their own layer on the songs they transformed in their present form. We don't care if the song is folk or doom or something else, if it sounds like Wasara, then it must be Wasara.
Main thing for us is to achieve the right atmosphere for every song. In the process of Hehku we had all the strings in our hands and we took our time to make it as good as possible, without any compromises. If we wanted to put violin or a piano to a song, we just put it. It took almost a year to record Hehku but it was worth it. Now we just hope that people will find it amongst the endless stream of new music.
Is there a lot of overlap between the death metal and folk scenes in Finland?
Not sure what you mean but there are very few bands that combine folk and deathmetal and sing in Finnish. It is not that common, but bands who go abroad and get some publicity, usually are those who combine folk and other Finnish stuff in their music. In Finland it's not that popular to play folkish metal.
I was wondering how the song titles translate. I tried Google translate but I have a feeling they got quite thoroughly mangled in the process. (Saatanaiset, for example, is rendered as "Bring Women.")
And what is the instrument at the start of Saatanaiset, is that an organ? A guitar?
The instrument is an accordion (Finnish: haitari) and it is used almost on every song on the album.
The titles of the album are (roughly translated):
1. Saatanaiset ( she satans or she devils)
2. Ikuset ( eternals )
3. Minulla on monta nimeä ( I have many names )
4. Saunalaulu ( saunasong )
5. Kuollut on kuollut ( dead is dead )
6. Totuudennäkijä ( seer of truth )
7. Unohdetun mielenvirtaa ( mindstrem of the forgotten )
8. Kainista kasvaneet ( risen from Cain or grown from Cain )
9. Kymmenen unohdimme ( We forgot the ten )
10. Hehku ( the glow )
Saatanaiset was most likely written in a post-hangover depression. Saatanaiset as a word translates to something like "she satans".
The lyrics tells a story where women uses their beauty and looks in general to lure men to their slaves:
They watch without remorse those men those worms /
they sing their songs, they sing to their slaves /
how could they dominate, how could they make their men to be the darkest soil /
They took us with them…Saatanaiset!
Two of the songs on Hehku struck me as being more folk than metal: Saunalaulu and Kainista kasvaneet. What are those songs about?
Saunalaulu (saunasong) is a song about my familys sauna which is over 100 years old. It tells a story [about] how boys are turned to men in the sauna and how sauna is the place for truth. Elderly people tell their stories in there. It is a place for cleansing ones body and soul. For me it is the album's most personal song.
Kainista kasvaneet is a song about going to hell. We were condemned to hell from the very beginning when Cain turned to the darkside. We are constantly lured by different kinds of things. No one is so pure they could ever get to heaven.
I've also gathered from the internet that "Wasara" translates as "Hammer". Is that right?
Yes, but it is nowadays spelled vasara.
Wasara on Spotify.
Wasara on Facebook. (In Finnish)