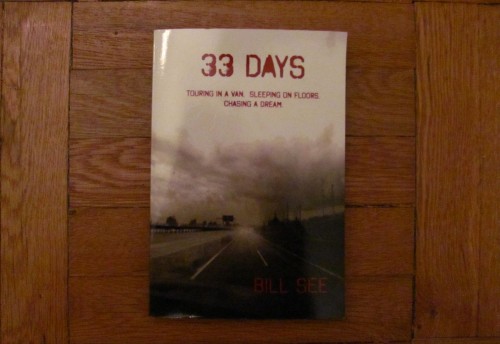 When I came to the end of this book, I closed the back cover slowly, and rested my fingertips on it, pulling myself back to the present while the the last image – Bill See, alone in a quiet house with his guitar amid a swirl of cables, contentedly working on songs while his loved ones sleep – slowly settled, and I thought, I really wish I could have gone to one of your shows.
But in 1987, the year Bill See and his band Divine Weeks set off on what was truly an epic adventure, I was too young and on the wrong coast to participate in their rock and roll journey. Reading his account of it now is almost, but not quite, as good as being there must have been.
But I suppose I should back up a little bit and perhaps start over. The year, as I mentioned, was 1987. The place was Los Angeles, where Bill See, Rajesh "Raj" K. Makwana, George Edmondson, Dave Smerdzinski, aka Divine Weeks, a decidedly not glam band (See describes them as "musically [close] to The Who at Woodstock by way of early R.E.M" but ideologically more akin to The Minutemen) have decided, separately and together, that it is time to quit fooling around, rent a van, and take their locally successful show on the road for the very first time. (Their friend Ian Bader came along as road manager.)
33 Days Touring in a Van. Sleeping on Floors. Chasing A Dream. is the story of the barfights, broken strings, breakdowns (van and human), accidental acid trips, encounters with yuppies, skeevy promotors, sojourns in brothels, romantically gifted sound men, pantsless DJs, and other moments terror and rock and roll bliss that followed.
The text is based on a journal See kept during the trip and is written in present tense, which took me a page or two to adjust to, but, once I did, I was entranced.
I  hit the highlights of some of the stories above, but in addition to all of that there were several little moments that made me smile, and possibly actually clap my hands with recognition and glee, like when they saw their video on 120 Minutes, or the time in Portland where they opened for the Dharma Bums and afterwards Jeremy Wilson told Bill See all about a really shy kid named Kurt Cobain who was starting a band up in Aberdeen, Washington, and also the time in Kansas City they played a show with the Flaming Lips and Wayne Coyne shared some of his far-out ideas about what you can accomplish touring in a van. (Sadly, the substance of the ideas did not make it into the text.)
Also endearing were the parts where they grumbled about R.E.M. and the way they alternated between appreciating Jane's Addiction and fighting about appreciating Jane's Addiction. True story: Bill See was later asked to sing for Jane's Addiction, and turned them down. Oh, how the world might have been different . . . !
It's also worth noting here that  I've now read several autobiographies by musicians from bands that were active on the Sunset Strip in the late '80s. I'm not going to make "real" and "fake" comparisons, because it all happened, and they are all real. But this book feels, for lack of a better term, the most human-sized, and – this might be cheesy, but oh well – it's also the most inspirational.
It is as much a story of five dudes driving across the country in a van with some musical instruments, having the time of their lives and growing up in the process as it is a story of what can happen when you see an opportunity / the brass ring, and jump for it. You might catch it, you might fall down, you might catch it and then fall down, but you don't know what will happen until you take the leap.
As See himself puts it in his introduction: "This book is for everyone who's stood at their crossroads with a dream screaming inside wondering whether to choose the road that goes off the map or fold up their tent and head back home."
In summary: A truly excellent tale of one bands first tour, which should be required reading for any kid with an instrument and a dream. \m/\m/ (two sets of metal fingers out of two)
And now, here is some audio-video illustration. Here is the band on Day 25, in Saint Louis, with a brief interview, Idiot Child (which was written for Jim Carroll), and Sympathy for the Devil:
Divine Weeks - Psychotic Reaction TV 8/21/87 St Louis
And here is Bitterness, playing over a series of still pictures of the band:
DIVINE WEEKS - BITTERNESS VIDEO
And finally Idiot Child live and not acoustic, from a reunion show in 2004:
DIVINE WEEKS REUNION 4/10/04