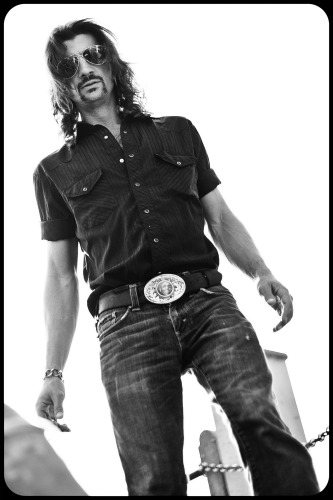 While some hetero ladies like to pretend they only want an upright, decent, clean-living man who is home every night by dinner time, I tell you what, it's hard to pass up a long, tall Texan with Waitsian vocal cords and key-pounding fingers… especially when he serves up some of the filthiest, most driving soul/jazz/blues-powered rock 'n' roll since T-Model Ford's debut.
James Leg, a.k.a. John Wesley Myers – who was a part of the last line-up of the Immortal Lee County Killers and comprises one half of the Black Diamond Heavies – is releasing his solo debut, Solitary Pleasure, on April 5th, and it is a delight. Leg expands his usual repertoire into piano bar ditties and gospel while still serving up slipping, sliding, sweaty blues-tinged rock and heavy soul with take-me-as-you-find-me lyrics. He even dips into comedy with "No License (Song for the Caged Bird)", a song that begins with a sad trombone, ends with a Three Stooges motif, and plays like Fats Waller at the end of a week-long bender in between, in an ode to one hell of a dame.
Among the 10 tracks on Solitary Pleasure are two covers: a thumping, fiery take on Link Wray's "Fire and Brimstone" that I'm sure Wray would have approved of and a cover of the Kill Devil Hills' "Drinking Too Much" that takes the Australian band's aching ballad of self-realization and turns it into a ramshackle tumble that makes the final verse feel even more confessional than in the original.
A little over half-way through the album comes a track, "Whatever It Takes", that threw me for a loop the first couple of times I listened through the album. The song features vocals that are so sweet and pleading that they are actually jarring after 6 tracks of Leg's broken-glass gargle. I made a note to myself to check the liner notes and find out who was singing on this almost out-of-place track and was shocked to find it was still Leg, making a heartfelt plea to a lover who wants to throw in the towel. In contrast to his usual singing style, the softer vocals make the nature of this song that much more affecting.
If I had to pick one track that would best encapsulate Solitary Pleasure, it would be "Drowning in Fire", as it combines elements of rock, blues, jazz, soul and gospel into one hell of a revival complete with a church-worthy backup chorus.
James Leg – Drowning In Fire by Now This Sound Is Brave
The whole collection wraps up with a straight-up, hand-clapping gospel tune called "No Time to Tarry" that Leg throws himself into so whole-heartedly that you can hear him panting and cussing at the end. It's an oddly uplifting and fitting end to an album that is ultimately the story of a man who has come to realize his faults and seems ready to take the first step to redemption.
James Leg is currently touring in support of Solitary Pleasure and will be making a stop at the Happy Dog in Cleveland this Thursday, 3.17.11, at 9 PM, and I highly recommend you get there.
(And if you live elsewhere, check out these dates [more to be announced]:
March 17- Cleveland, OH- The Happy Dog
March 18- Ft Wayne, IN- The Brass Rail- Left Lane Cruiser record release show
March 24- Chattanooga, TN- JJ's
March 25- Chattanooga, TN- JJ's
EUROPE DATES
31March -Lorient, FR at Le Galion
2nd April- Mont Contour [St Brieuc], FR at La Vieille Tour
3rd April- Binic, FR at Le Chaland Qui Passe
5th April- Grenoble, FR at 51 to 48
6th April- Valence, FR Mistral Palace
7th April- Dijon, FR at Deep Inside
8th April- Nantes, FR at Le Remorqueur
9th April- Marmande, FR at Garorock
10th April- Brive, FR at 5th Avenue
11th April- Bordeaux, FR at St Ex
12th April- Limoges, FR at Zic Zinc
13th April- Lille, FR at La Boite à Musique
15th April- Middleburg, NL at Café t'Hof
16th April- Haarlem, NL at Patronnaat
17th April- Utrecht, NL at db's
April 23- Cincinnati, OH- Northside Tavern [Record Release Show])