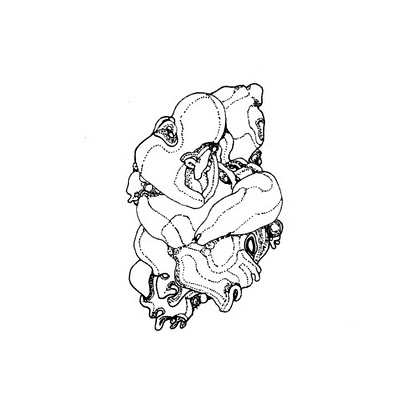 The line of separation between "That sounds interesting" and "I must listen to that again RIGHT NOW" can be a wide one. But after my first listen through Grandfather's debut album Why I'd Try, that line was so thin it was practically invisible. I found myself hitting the "play" button again before my brain had even had the chance to fully grasp the music, to file it under a tidy banner, as brains are wont to do. The heavy, compelling rhythms, guitar that sounds a range from attack-dog machine-gun barking to high jangly space ambience and almost delicate melodies bore quickly and directly into some sub stratum in my brain, making my understanding of the music a bottom-up process instead of the usual top-down ("We're a [genre] band", "RIYL: [other bands that may or may not sound like this band]") method. It was not unlike my initial experience with a band that went on to become one of my favorites: Shudder to Think, with their changed-the-game-for-me album Pony Express Record (a band Grandfather has been compared to based on their favoring of off-kilter time signatures and unusual melodies).
How the end product of Why I'd Try came to be is an interesting story and an effective calling card for Grandfather – a three-piece made up of Michael Kirsch on guitar, Jonathan Silverman on bass and Josh Hoffman on drums and vocals. After messing around with their digital home recording equipment to the point where they didn't feel they could trust their own ears any longer, they decided that the most freeing option would be to take all those digital options away. They would hand the engineering reigns over to someone else and record their album in an analog studio. And there are few more qualified to take those reigns than Steve Albini (and if you don't know who Albini is – oh, honey – check out this list of albums Albini has engineered, including those by his own bands Big Black, Rapeman and Shellac).
Grandfather – It's Good Enough Now
Decision made, Grandfather sold off their digital recording equipment, set up a Kickstarter campaign to make up the difference and booked time with Albini's Electrical Audio studio in Chicago. In three days, Why I'd Try was recorded and mixed by Albini and mastered by Albini's Shellac bandmate Bob Weston. (Michael Kirsch wrote a series of posts about the process and experience for SonicScoop that are well worth a read.)
Grandfather – Blood Theme (From Dexter) / Tremors from Big Ass Lens on Vimeo.
With the money spent and the hard work finished, Grandfather proceeded to give the album away for free (go to the official site link below for the full download). The trick of it is, once you hear the album's sonic richness on mp3, you'll want to hear it again on vinyl for the full experience of highs and lows and textures. Lucky for you that they had a limited number of LPs (and CDs) pressed to fulfill that need. All it'll cost you is a ten-spot (and some shipping if you're ordering online – I already have mine on order).
SonicScoop | How Grandfather Made A Record With Steve Albini In Three Days