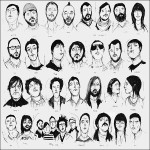 Better late than never, right? Or something like that.
Anyway, to back up a little bit, in early January Fadeaway Records reanimated first themselves, then The Gay Blades, and finally (and for one night only) Maxwell's, for a benefit show for cancer charities. The following week they did it all over again (minus the reanimation) at St. Vitus Bar in Brooklyn. I was at both shows, but the pictures from the first one were supremely terrible, so I'm only posting the ones from Brooklyn.
In addition to the shows, there are also three, count them THREE, records being sold as part of a general "screw you, cancer" effort. On the records are over 30 previously unreleased tracks from Motion City Soundtrack, Frank Iero, Saves the Day, Judy Chong, Reggie and the Full Effect, The Gay Blades, Nightmare of You, Head Automatica and many more. The records are available in fancy vinyl as well as digitally.
Now onwards to the pictures.
Fred Mascherino (The Color Fred, Taking Back Sunday, Breaking Pangaea, Brody) is a man of many bands; his most current project is Terrible Things.

Continue reading