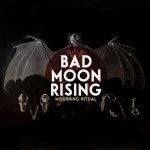 This is Bad Moon Rising, originally by Creedence Clearwater Revival, but here brought to you by Mourning Ritual feat. Peter Dreimanis of July Talk.
You may have heard it if you've been watching The Walking Dead or Teen Wolf; if not, know that this version of the song is the complete opposite of the bouncy, jangly original.
It also appears to be Mourning Ritual's only tune. Here's hoping they put out some more.
Bad Moon Rising (Cover) by Mourning Ritual