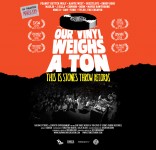 Our Vinyl Weighs a Ton: This is Stones Throw Records is the story of DJ and producer Peanut Butter Wolf (Chris Manak) from his early life outside San Francisco to the founding of Stones Throw Records in 1996 to the present. Directed by Jeff Broadway and featuring appearances by Kanye West, Snoop Dogg, Mayer Hawthorne, J Dilla, Mike D, Common, ?uestlove, Mad-Lib, Dam-Funk, DOOM, and Tyler, The Creator, it will officially premiere at the SXSW Film Festival in March.
But – true to the label's pioneering approach to the music business – it's also going on a promo tour across North America, and most of the screenings will be followed by performances by Stones Throw artists.
Here's the trailer:
Our Vinyl Weighs A Ton: Official Theatrical Trailer [HD]

Watch this video on YouTube
For updates, check out their Facebook page.