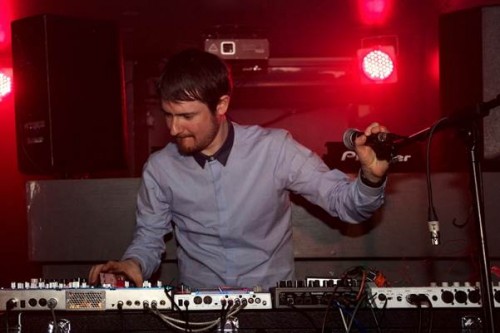 I'm filing this post under "gadgetry" because producer Michael Forrest has created something that fuses music and technology: an album that is also an app. Currently available for iPhones, iPads and iPod Touches, it is a collection of 1000 loops of electronic textures designed to run, as it says on the tin, infinitely and with endless recombinations of sounds.
How It Works:
I tested it on my iPhone. The interface is mercifully simple, clean and reasonably intuitive. The first time you use it you will need to let all the loops download, but that only takes a few minutes, and doesn't impede play. To get started all you have to do is press the "play" button. You can then leave it to its own devices for as long as you like – if it gets stuck in a set of loops you don't care for, give it a shake and it moves on – or you can press the stack of bars that will lead you to a more complex menu.
The more complex menu is designed with six buttons, three across the top and three across the bottom, with eight slowly rotating discs between them. There are pop-up text boxes that explain the various functions, which I turned off almost immediately as they cluttered the screen and were somewhat repetitive. (Also they seemed to get crankier as I poked and prodded. No need to fiddle! one informed me, which is about when I turned it off.)
The buttons, top to bottom, left to right:
Playing/Pause: Tells you if the Infinite Music Machine is on or off. You can also turn it on and off from the lock screen.
Movement: Increases and decreases the tempo
Change: Changes the textures that are playing; you can do the same thing by shaking the phone or tapping one of the rotating discs between the buttons.
Save/share: You can tap in the upper right to save; titles are prefilled, and tend to be things like "Tickle Drum Roll A", but you can change it. Or you can share the loops via Twitter or Facebook.
About: Pulled up a tiny blockheaded dancing Michael Forrest avatar that made me want to personalize it, because really, tiny block-headed dancing avatars for everyone!! Also there are basic instructions and a link to Forrest's Facebook page.
Sets: A list of your saved sets.
Other notes:
As mentioned above, the eight discs in the middle are visual representations of the number of textures in play. There are usually between three and five discs rotating, though I did get all eight going at once for a couple of seconds.
Quibbles:
Desire for my own dancing avatar aside, I have very few complaints, the main one being when the phone is locked, you can see which discs are moving but cannot turn them on and off without opening the app.
Verdict:
I let it run for about an hour and a half, largely unmolested – I think I shook it twice – and overall it was quite pleasant. Well worth your $1.99.
Here is a fixed sample of the kind of music the app can produce:
And naturally after all of that I had some questions for Mr. Forrest.
If people were using this app to make music, specifically to make beats, would they treat the result like a sample? And if so who would they credit, you or the app? Or both?  Or would it be none of the above, i.e. it would be theirs, since they were creating the beat with available sounds, and the database of noises would end  up being a kind of library of sound.


The app is not supposed to be treated as a 'sound library' per se – these aren't royalty free samples like you'd get if you bought a sound library. The Infinite Music Machine is a piece of music.


That said, I want to encourage capturing and remixing, so all the audio has a Creative Commons Attribution 3.0 license. This means that people can record and remix but should credit me when sharing the results. Obviously if somebody wants to distort the sounds beyond recognition then nobody will ever know, but I'd like to hear those sorts of remixes more than anything else!  


Is there a way to look at the list of individual sounds and compile a track in a deliberate way, rather than by random shake?
Nah, that's not really in the spirit of the app. If you're interested in remixing, think of it as a kind of 'mischievous, opinionated, slightly awkward and ephemeral sample library' – it deliberately doesn't let you have too much control – you have to catch the moment or it's gone.
Can people add their own sounds to what is already there?
Not just now. Its use as a DJ tool or whatever is very much secondary to its 'album' nature. It's for listening, it's not really supposed to be a music performance app.
However, I may end up needing to make some modifications for my own use if I decide I want to make it the core of my own live performance set up. In that case, I'd consider enabling advanced functionality like this as an in-app purchase. But I probably won't because if I did, the next thing I knew I'd have everybody asking me for MIDI control and effects and all sorts which would shift the focus too far away from the real point of the app as a piece of music.
Does the app get "trained" as one uses it, i.e. does it reduce the frequency/drop sounds often skipped and repeat sounds often saved?
Interesting idea. I'd prefer to think of it as the app training the listener – perhaps a sound that you found alien the first time you heard it might become more familiar over time, and you'd be less inclined to skip it next time :)
If you save a sound and share it, does the person clicking on it have to have the app to listen to the "song"? or does it export as an mp3?
The person clicking the link needs the app to hear the song. I'm happy for people to figure out recording to mp3 themselves, of course (hence Audiobus support) but I haven't built this into the app itself.
Did you record all of the sounds in the app yourself? What kinds of noises are in there?
Yes, I recorded all the sounds myself. There are about 1000 different loops including live drums, drum machine beats, various virtual, real vintage and home made synths, many strange little sound-making toys, effected silly noises, a harmonium, pianos and a kazoo. Check out the video to see me in the studio recording some of the sounds.
Infinite Music Machine by Michael Forrest