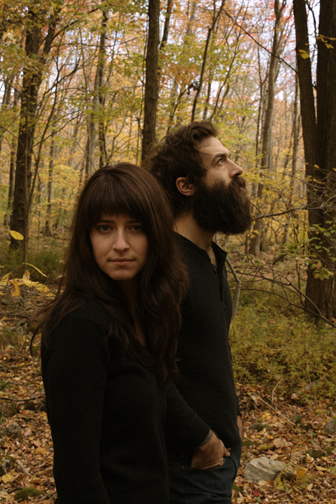 Brown Bird's forthcoming EP, The Sound of Ghosts, seems to be another step in the stripped-down band's evolution, sounding as different from early albums "Such Unrest" and "Tautology" as the Carolina Chocolate Drops sound from Iron and Wine. While early Brown Bird songs were slow, sparse, delicate pieces, The Sound of Ghosts is imbued, start to finish, with foot-stomping, ramshackle rhythms anchored by upright bass and layered with percussive guitar, rich harmonizing between David Lamb and his partner MorganEve Swain and a splash of fiddle and banjo. One can hear influences that span the world, but it's all held together with a polish that never overwhelms the spirit of the songs.
The EP is available via Brown Bird's Bandcamp site with a limited edition hand-silkscreened edition that will ship May 1st. The EP will see wide release May 10th.
Brown Bird is on the road now and will be playing the Newport Folk Festival in July.
BROWN BIRD 2011 SPRING/SUMMER TOUR DATES
(more dates to be announced soon)
Apr 08 – The Apohodion w/ Al Scorch, Plains / Portland, ME
Apr 16 – Virada Cultural, Sao Paulo, Brazil
Apr 23 – WOW Hall w/ The Devil Makes Three / Eugene, OR
Apr 24 – Wonder Ballroom w/ The Devil Makes Three / Portland, OR
Apr 27 – Crystal bay Casino w/ The Devil Makes Three / Crystal Bay, NV
Apr 28 – Slim's w/ The Devil Makes Three / San Francisco, CA
Apr 29 – The Catalyst w/ The Devil Makes Three / Santa Cruz, CA
May 05 – Porter Belly's / Brighton, MA
May 07 – House Show w/ Sidewalk Dave, Plume Giant / New Haven, CT
May 19 – The Met EP RELEASE PARTY!! w/ The Devil Makes Three, Wooden Dinosaur, The Silks / Pawtucket, RI
May 20 – Bario-Neal Jewelry Show/ Marco Panella, Wooden Dinosaur / Philly, PA
May 22 – w/ Homemade Knives / Richmond, VA
May 26 – Rochambeau Library / Providence, RI
Jun 03 – Lily Pad w/ Joe Fletcher & The Wrong Reasons / Peacedale, RI
Jun 24 – Elysium w/ Audrey Ryan / Rollinsford, NH
Jun 25 – SPACE Gallery w/ Audrey Ryan and South China / Portland, ME
Jul 31 – Newport Folk Festival / Newport, RI
[photo credit: Mikael Kennedy]